Well folks, I've been writing some "Friday Musings" over on the Orange & Brown Report boards (theobr.com) and thought I'd simply post those over here. I've been putting pictures up from fun events last fall (ex: Browns vs Jaguars in Jacksonville, Nov 21st) on my Facebook and Photobucket accounts. Might have to display a couple of those here. Now on with the"musings".
From Browns vs Jaguars, Nov 21, Everbank Stadium: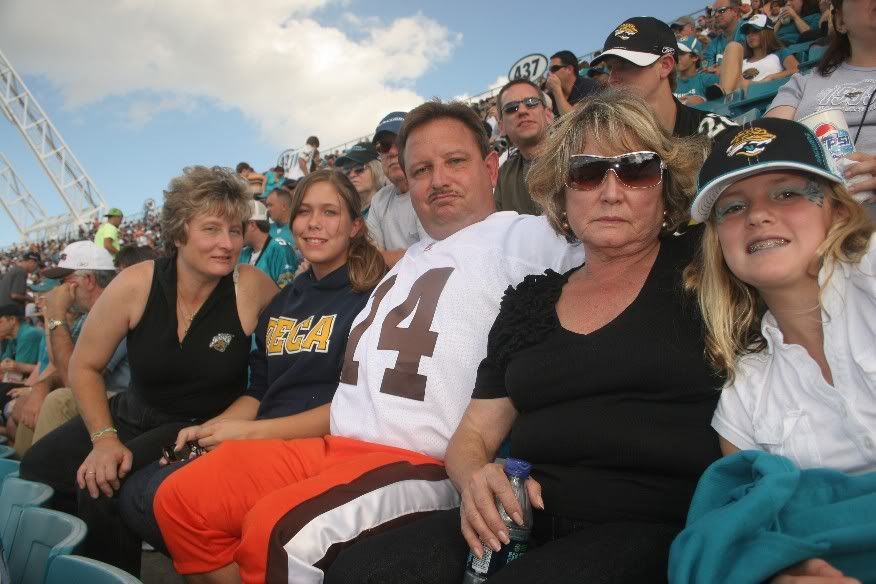 Friday Musings, 21 January 2011:
- Beginning to look more & more like its Dick Jauron for our defensive coordinator position. So far Dawg Pound Nation seems to be pleased with the move.
- Once again out in the California deserts close to Edwards AFB. They got a rather spooky "aircraft boneyard" out here to see.
- Well today is our mother-in-law's birthday. Only gift idea I can think of she'd really like, a card with some money in it. We'll try that this year.
- Burrito Place: In Eloy, AZ (I-10, exit 208), right across from the Pilot, there is a little food stand that makes the absolute best chicken burrito I've ever tasted. Its called Rodriguez Taqueria. Great food, and moderately priced as well.
- The Buzzard: Anybody remember the old WMMS Friday monologue by "The Buzzard"?
- Wife forgot to take her phone to the horse barn. Stayed out there most of the day working and nobody could get a hold of her. She finally did call much to my relief.
- Yes I know, time to update my sig line for 2011...that is if we have a 2011 season.
- Along those lines, maybe no season for 2011 might be a good thing for the BROWNS. With no football till 2012, we get two season's worth of draft picks, two seasons worth of FAs to improve the team. Maybe just skip a 8-8 season and go directly to a 12-4 winning season in 2012 and playoff appearance. Think about it.
Friday Musings, 28 January 2011:
- Helped out at the barn today with the horses. Oh what a fun job.
- Glad to be home in Florida at this time of year. That weather up north is just too cold for me bones anymore.
- Sig line updated. Decided to simply skip 2011 which will either be a lockout or a 8-8 Browns season and go directly to 2012 which should (finally) be a winning season and playoff berth for the BROWNS.
- Anybody seen maxThiNG lately? I know he's "retired" from board moderation but kinda miss the laughs from his usual insults. He's kinda like the old fart living down the road we used to throw snowballs at as a kid (I know that is not right, just describing the situation).
- The first new prints from my landscapes photo collection are printed and mounted, ready for art show display. (everyone who sees them says they're downright beautiful prints and will sell big time. Still got hundreds to go though we'll print them a block or so at at time. Spread out the expenditure over time.
- Along those lines, time to fire up the film scanner. Have a lot of old (30 years old) B&W negatives I shot way back when which could be used, especially shots from Guantanamo Bay, Cuba.
- Anybody want a cat? We got one around our house we'd like to rid ourselves of. (I'd prefer a Siamese cat myself or a dog).
- My annual visit to the eye doctor. Easy to do since my opthamoligist happens to be a drop-dead beautiful lady (age 36 for those 2H club tards so wondering).
- Ordered new business cards from VistaPrint. Great deal over Office Despot.err..Office Depot.
- Yes, its annoying to see Pittspuke back in the SB. But I've made it a point to respect what they have accomplished (easier since I have quite a few friends & relatives who are Steeler fans) which helps lower blood pressure. Not that this affects my desire in any way to see the BROWNS crush them the next time we play the Stoolers.
- Finally I do like the direction the BROWNS brain trust seems to be going this year so far. We finally have a FO where everybody is going FORWARD in the same direction. And the talent level isn't bare like it was back in the RAC days.
- My first look & tryout of a Nook electronic book. Now I want one. Sheesh.


SPECIAL UPDATE: This Friday, 28 January 2011 is the 25th Anniversary of the Challenger Disaster. One of those events where everybody knew where they were and what they were doing. As for me, I was at Kent State University and had just finished a computer systems class and was on my way to my car when my girlfriend caught up with me and broke the news. We both went to my house in Aurora and watched the news coverage.

Here's a link to Michelle Malkin's Account of that day 73 Seconds, 25 Years.
And another photo from Browns vs Jaguars gameday: